Graded Grains
Updates
History << >> Equipment << >> Gigs << >> Memorabilia << >> Recordings << >> Releases << >> More Stories << >> Updates
THE STORY FROM 1986
I have written these notes as they happened
If there are any errors found, then hopefully these will be corrected later in the script
I understand that Bud now lives in the Alicante area of Spain and plays solo but rumours have leaked back to the UK that he works also as a duo with a former member of 10CC
Gary still lives in Exmouth and since the "Graded Grain" days played with "Catch 22" until about 2007. He then joined "Stringband" until the band retired in January 2009. He is currently in a band called Fiv5way
I never played after 1986 and devoted my time to "Potters" and I sold it in 2001. However, after twenty years, I got re-interested in music, plays guitar again - for amusement only & have spent a lot of time compiling this web site and now writing my memoirs!
2009 - Ray (Kemp) e-mailed me & informing me that he, John & Andy (Carpenter) are in a band called the "Unknowns"
They disbanded at the end of 2012 but Ray, John & Andy has reformed with another name - to investigate!
30/8/09 - I bumped into Brian (Spartans) and he is still playing solo but he sadly informed me that Tommy (Spartans/Graded Grains) passed away in 2006
Tommy was a great drummer & character. We had a real love/hate relationship. He took the piss out of me a lot with my antics
A bizarre thing happened today - 04/10/12. I was working on my family tree, as I am well into this project, I discovered that Tommy was my fourth cousin! My Mum is a Turner & en route she, & I, bumped into the Searle family! - I wonder how he would have reacted if he knew we were related?
25/05/10 - Chris Martyr e-mailed me. He was in the "Rivals" with Cliff & Hilton Andrews (brothers) but both have sadly passed on - Cliff was in the "Graded Grains" at Butlins, Minehead 1967 followed by a six-month tour of Germany - 1967/8
25/06/10 - At last I tracked down Terry (Graded Grains) playing at a charity function in a marquee at the "Waie Inn" at Zeal Monachorum. After a spell with the Wurzels in the late 1980s he later, with Russ (Holland) & Tim (Joslin), formed the "Cornish Wurzells" and are having a great time with a lot of support
At the same function "Barnaby" was also on the bill and Trevor (Pugsley) (Contraband) is still treading the boards.
Terry has now left the "Cornish Wurzells" - I am not sure if the band has continued or disbanded. Terry then moved onto "The Flower Power Band"
16/2/11 - I traced Chris (Spartans) about a month ago and we have exchanged a couple e-mails and we will both keep in touch - Chris now lives in Cambridgeshire
Also only a couple days ago Rod, our long serving roadie in the Graded Grains, tracked me down and we enjoyed 45 minutes swapping stories on the phone - Rod now lives in Herefordshire
I heard recently that Brian Roberts (Starline Entertainments) / Brian Day (Plymouth Sound - Radio) passed away in March 2012
Sadly, Dave (Graded Grains/Gary Kane & The Tornadoes) passed away on the 17th May 2012 after a long battle with cancer
I was invited to the "Old Boys from the Bands" get together. Gully rounds up the troops every six weeks or so. Last Thursday, 21/6/12, I tagged along - a great three-hour session. Gully of course was there along with Barney, Cuffy & Trev (Pugsley) from "Barnaby", Rawden, Ray (Kemp) with the "Unknowns", Brad formerly with "Hot Nuts", Dave (Bennett) & Joe formerly a roadie. Sorry if I have forgotten anybody or the spelling. I look forward to the next!
Now nine months down the road, 14/3/13, I have been to all the "Over Sixty of the Sixties" get together except one. Other "member" include Brian (Sandy), Pete Evans, Ray Beavis & Dave Trant
At the end of 2012 yet another coincident. My Mum (91) regularly plays whist with half a dozen or so old timers & in conversation without knowing my Mum regularly plays with Bud's Mum - Betty Street. Also Brian was doing a gig in Heavitree, Exeter fairly recently & bumped into Betty who was in the audience
Sadly, I have to report another death of a Graded Grain's drummer. Yesterday I read in the Express & Echo that Steve Orgee unexpectedly passed away with a stroke on 19th May 2013.
Today is the16th February 2014 hoping to report some good news but I am afraid it is not so, as last Tuesday Brian (Sandy) phoned me about the passing of Chris (Forte). He was buried at the Higher Cemetery, Exeter on Friday 14th February 2014
Chris & I go back a long way to the Cycle Speedway Team days, forming the Spartans at Forte's Ice Cream Factory in Preston Street, Exeter & appearing in over 200 gigs. We did not cross paths much after the Graded Grains formed but the friendship revised when Chris & Gary met through business. Chris came on many gigs with us in the late 70s & early 80s. Bud, Gary & Chris supported Exeter City & I, not a football fan, tagged along to a few Exeter matches & the "big" away ones with special memories at Wolverhampton & Liverpool
About this time Chris joined the RAF & ended up as a Wing Commander, in the catering side & stationed at RAF Lyneham, Nr Swindon - possibly stationed other places
After the Graded Grains days, I lost contact with Chris until he tracked me down on this website & in & around 2011 we exchanged many stories by e-mail. By then he had retired from the RAF & was lecturing in Cambridgeshire & not in too good health. We kept on promising each other to meet up somewhere but we never did & sadly never will.
In hindsight I kick myself as I always thought of Chris as we passed by Lyneham many times en route to visit my son in Hertfordshire & in later years Cambridgeshire was not too far from the St Albans area
In April 2016 our neighbour, three doors away, in passing, was talking about having to go to Torquay to sort out some costumes for a show which he & his wife were involved in.
He mentioned the name Lionel Digby. Obviously my ears pricked up & I asked him to pass on my sincere regards to Lionel. On his return he told me that Lionel had in fact, last year, tried to track me down as he had a big do - his 80th! He knew that Bud was in Spain but he had lost track of me.
A couple weeks ago, May 2016, our neighbour's, still getting these costumes together, took me along to meet up with the man – after 35 years! We spent half a day, catching up with the past & swapping stories!
The first one he reminded me of was my "Fire Act" – at Barnstaple Queens Hall!
The "Fire Act" was to spray lighter fluid over my amp "stack", then take a mouthful of petrol & spit this with an ignited cigarette lighter which in turn set fire to the stack. The "finale" then was to gob a mouthful of lighter fluid at the crowd – nobody got hurt as the flames finished before it got to the punters.
It was quite a busy this night & right at the front there were a load of bikers.
On this occasion whilst "spitting" at the crowd it did not ignite. I loaded myself up again & this time it worked – but, without thinking, the greasers still had fluid over them & I set fire to at least one of them!
Lionel was in the wings watching, in horror, as one of the bikers was frantically dosing himself out! – Lionel's first thought a blood bath was imminent but the greaser must have thought it was part of the act & all was well!
All their bikes were parked in the market by the stage door by our van! – no problems!
2016 - Brad has now moved to Spain & working with Bud on the revamp of Hot Nuts (Chas & Dave "Tribute")
7th August 2017 - I am so sad to inform you that Gary passed away suddenly, at the young age of 67, on 25th July 2017. The internment was at Withycombe Parish Church, Exmouth on 4th August. Apparently there were no symptoms of any health problems. Obviously a huge loss to all especially Maureen, Scott & the rest of the family - what else can I say? I am guessing there were over 200 at the church & as near as many at the wake, at the Royal Beacon Hotel, Exmouth. I swapped stories with many of the the old group members over the last fifty years plus!
14/04/20 - A few days ago Terry & I exchanged a couple emails. He now has another band - "The Beach Boyz Tribute Band".
Email below received 28/03/21.
Hello
My name is Simon Andrews ,the son of the late Cliff Andrews. My father passed on in 1995 ,I am not sure what prompted me to google the band but now that I have ,I would like to know if you perhaps have any photographs of my father or stories that you might be willing to share.

Thank you

Simon

Sent from my iPad
And one of my replies, below, 29/03/21.
Hi Simon - I'm back again!
All I found today was this photo, taken 25/12/67 at Illesheim, Germany. This was taken by Lesley Ireland, our girl singer, but I have no photos whatsoever of her.
This was a weird gig, as Lesley, for some reason, decided to wear a paper, pink mini dress! - with the audience 99% male & very heavy on the dark side!
Us three set up right at the front, behind us was a grand piano & Lesley hiding behind that, for safety & dignity reasons.
This story is over 53 years old - frightening, how do I carry all that on board?
I honestly think that the only pictures I have are the one in "History" & this one attached, but if I ever find anymore I will add them to the website.
I have sadly noticed that your Uncle Hilton has passed on.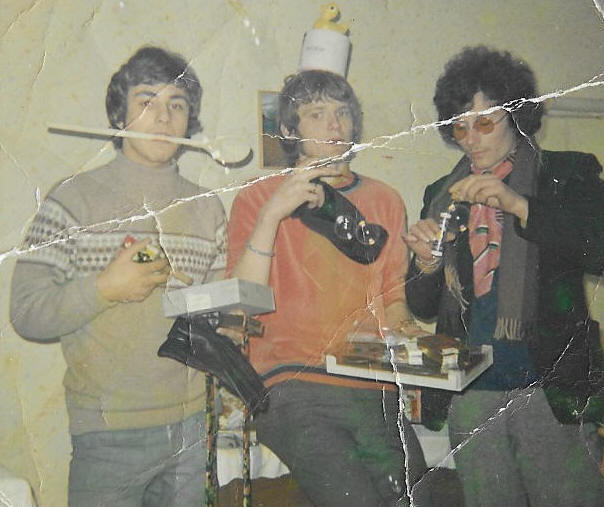 Left to right - Bud, John & Cliff. These were our Christmas presents to each other as we had something to open on Christmas Day!
All the best
John
This story about Lesley might also crop up on "More Stories".
Simon was delighted with this photo.