Graded Grains
Equipment
History << >> Equipment << >> Gigs << >> Memorabilia << >> Recordings << >> Releases << >> More Stories << >> Updates
TOOLS OF THE TRADE!
John never played after 1986 but 20 years later he regained his interest in guitars. This first section shows equipment from the 60s to the 80s but brought up to date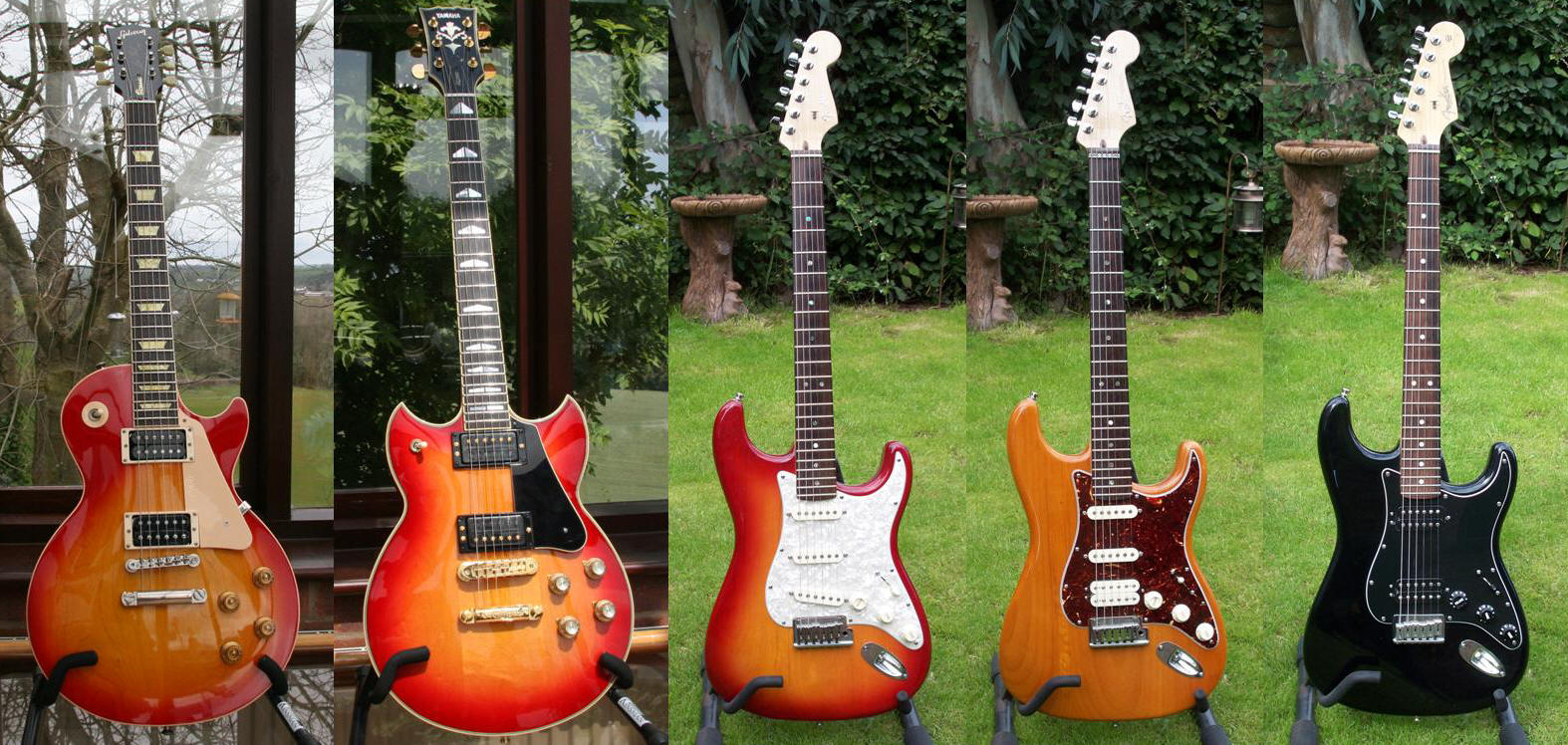 GIBSON LES PAUL - the "Classic" shown above left was a 2003 bought second hand in October 2006. John bough another one (not shown as exactly similar) - a 2001 bought second hand November 2006. The Les Paul Standard was always classed as the best - the "Classic" was built the same standard but with slightly less powerful pickups
The Studio, Deluxe, Classic, Standard & Custom variations are virtually unchanged since their inception
There is now a GT available which is based on the Standard & coil taps have been added - these turn off half of the double pole pickup. The pickups, as the Standard & Custom, are the 490R & 498T
Gibson between 2008 & 2011 introduced five Robot (automatic tuning) guitars - Les Paul Studio, SG, Flying V, X-plore & Les Paul Junior but not listed in this link - http://www.gibson.com
YAMAHA SG 2000 - above next. This is regarded, by many, as the best electric guitar ever made. It is superbly built, a through neck, a brass sustain block under the bridge & coil taps. This gives a full Gibson thick sound with even more sustain & untapped behaves like a Fender Telecaster. This was bought as an ex-demonstrator from a Axe Music, Axminster in May 2007.
There was also, in that era, a SG500 or SG1000 with, if I remember, a two piece neck & the SG3000 had the same specification of the the SG2000 but more trim.
FENDER STRATOCASTER - three shown above. All have five way & S-1 switching
The American Deluxe SSS imported from the States new in December 2006 - http://www.wildwoodguitars.com
Next the American Deluxe HSS imported from Germany new in October 2007 - http://www.thomann.de
Finally the American HH HT (Hard Tail) - a fixed bridge with no tremolo which gives the guitar more sustain. This was bought second hand from the States in March 2008. This guitar is very rare & has been discontinued for some obscure reason as it is a very clever instrument as it emulates the SG2000, albeit not quite so meaty, but it is a lot easier to live with than the SG but it has S-1. It varies from the Deluxe series as it has not mother of pearl on the fretboard & the tuners cannot be locked
The switching configuration of these three are below - you might have to zoom in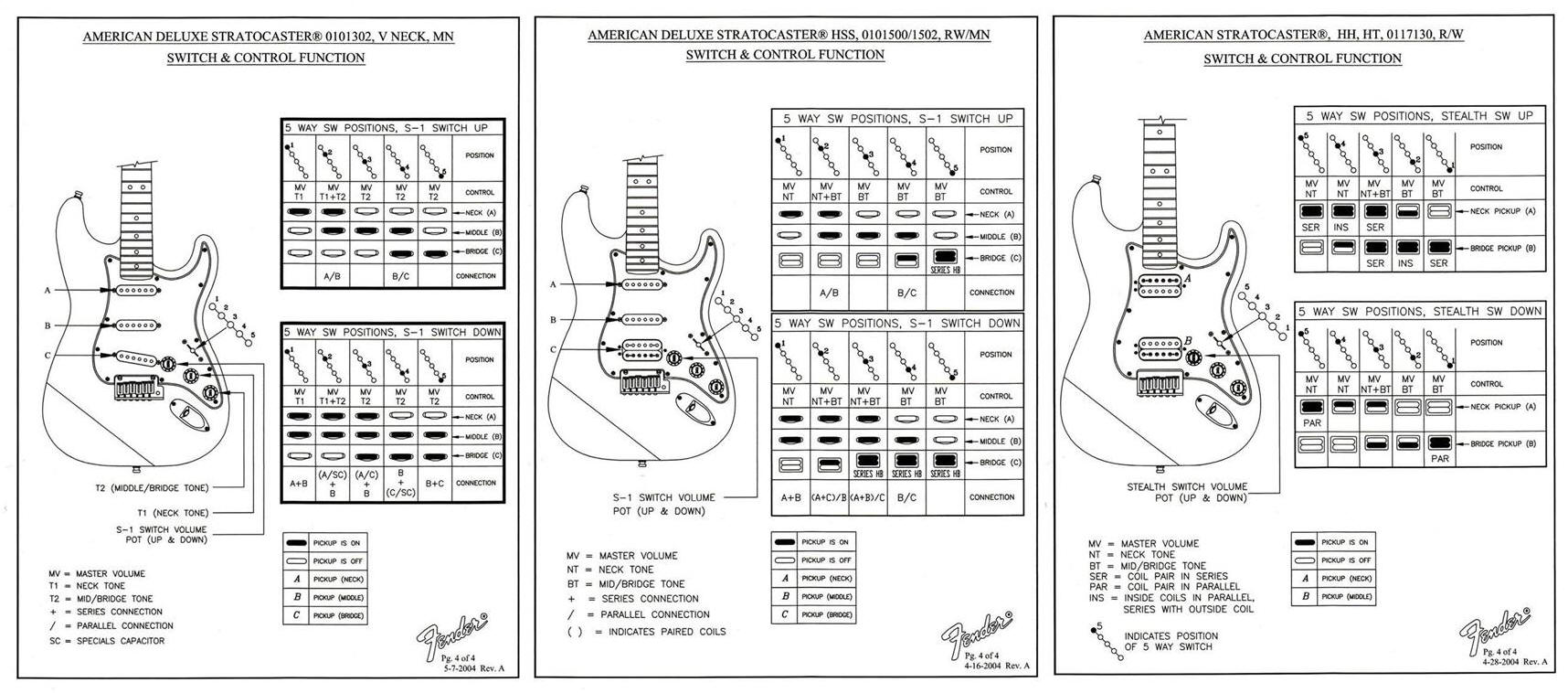 Below on the left is the Vox AC30 CC2 was bought new in 2007. The AC30s were used by everybody from the sixties & still going strong today. The original ones are fetching crazy money but new technology has left these way behind.
The Vox DA10 on the right is an amazing practise amp. It has eleven Digital Effects - auto-wah, chorus + delay, chorus + reverb, compressor, compressor + chorus, compressor + phaser, delay, flanger + reverb, reverb, rotary + reverb & tremolo + reverb. There's also a Tap Button that makes it easy to set the delay time or modulation speed. The sound is a bit thin compared to the valve powered AC30 & bought new in 2008.

Now the older equipment - some photos are a bit rough & the rest are taken from the internet
Below are two example of the first British electric guitar made - the Dallas Tuxedo. The one on the left was taken in 1957 and the one on the right could be John Lennon's first guitar as it was found in the loft of his house

And John, aged about 15, with his Dallas Tuxedo in red with black scratchboard. This is zoomed in from the top picture in "History" - not a clear picture! This was taken at St Matthews Hall, Newtown, Exeter.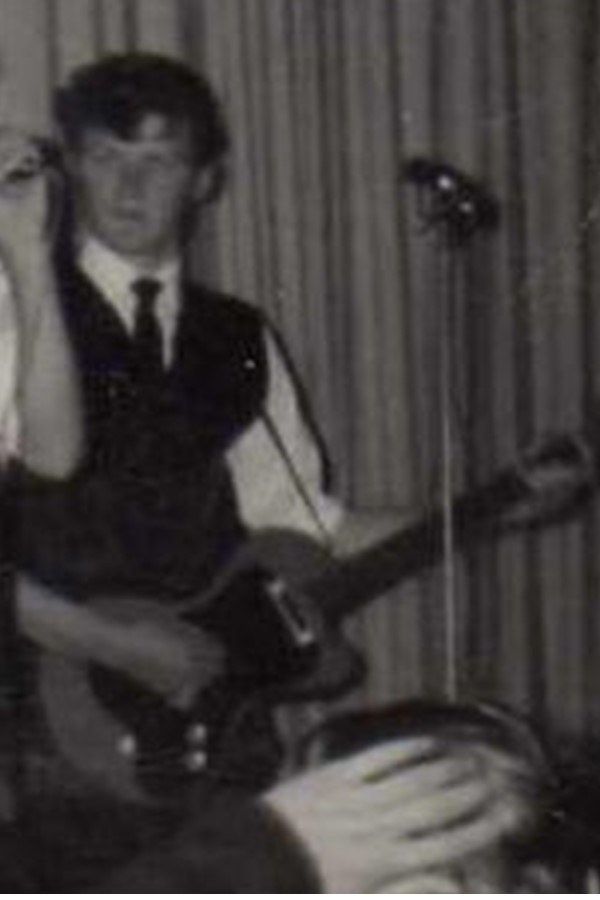 Below left to right - The Spartans Guitars - the colours are authentic - John's first electric guitar was a Dallas Tuxedo as above but in red, his next guitar was an Arbiter Semi Acoustic (no picture available), then an Epiphone Casino & a Fender Stratocaster. Brian's first electric guitar was a Freshman 5800 & then a Hofner Verithin. Chris's first bass guitar was a Futurama Deluxe then a Hofner President (500/5)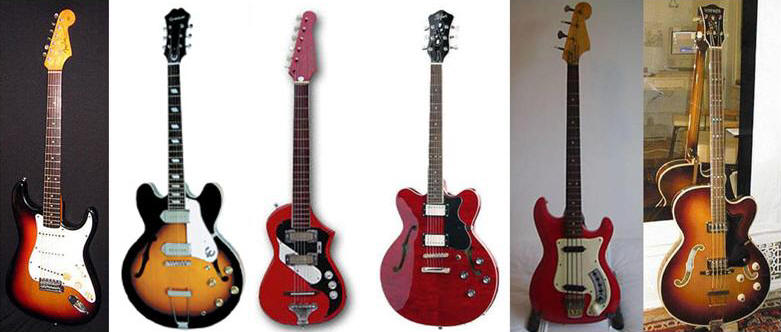 Below December 1969 - At the Golf Drouot in Paris - Bud's Hoyer in Cherry (copy of a Gibson EB3), Tommy's Ludwig Kit, John's Hoyer in black (copy of a Gibson Les Paul Standard) & Terry's Thomas Organ - these guitars were used on the Paris recordings
Arnold Hoyer showed John & Bud around his factory & these guitars were made specifically for them - cost £35 each
On the left the scratch plate & the cover over the bridge pick up has been removed & on the right the head stock logo is different to John's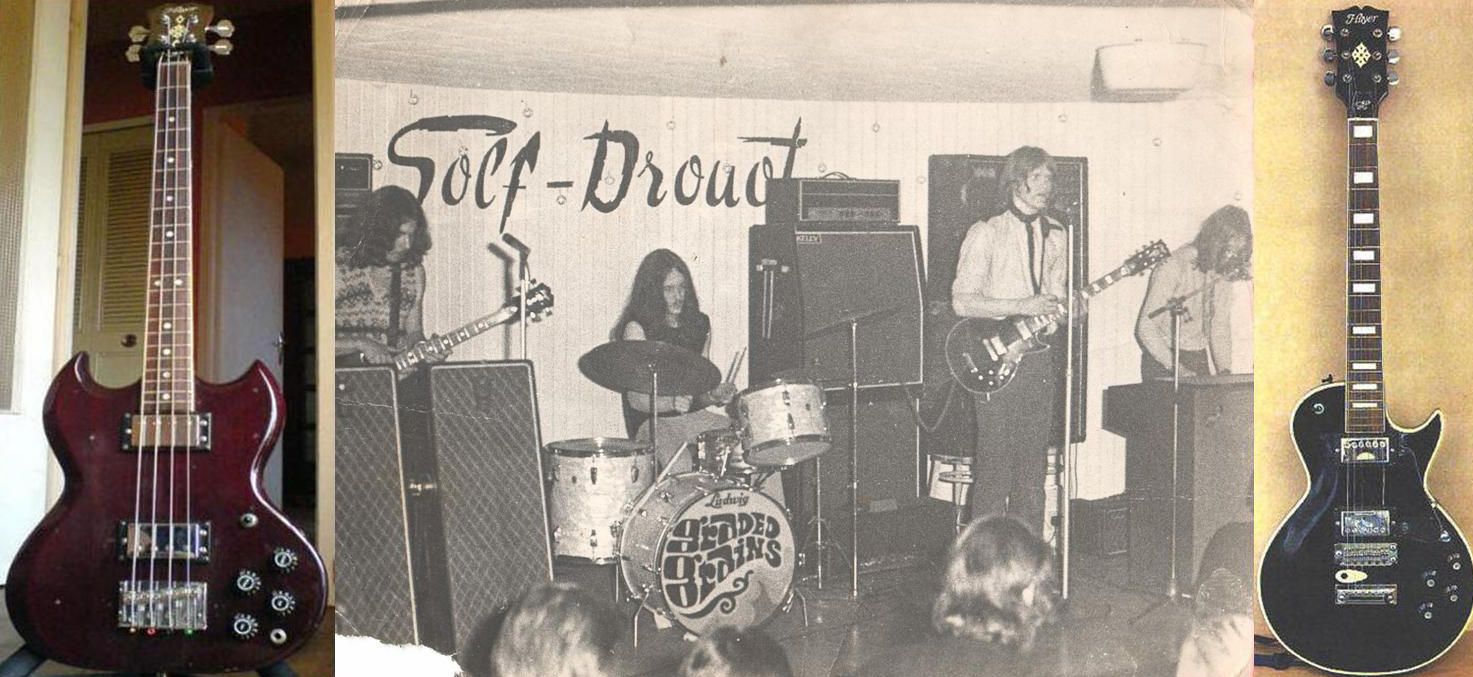 Below left June 1969 - At Herzogenaurach, Germany - John's Rickenbacker 330 & Vox AC50
Below right 1973 - At Pontins, Brixham - Tony's Fender Jazz, Gary's Premier Kit, Trevor's Gibson Les Paul Custom & John's Gibson Les Paul Deluxe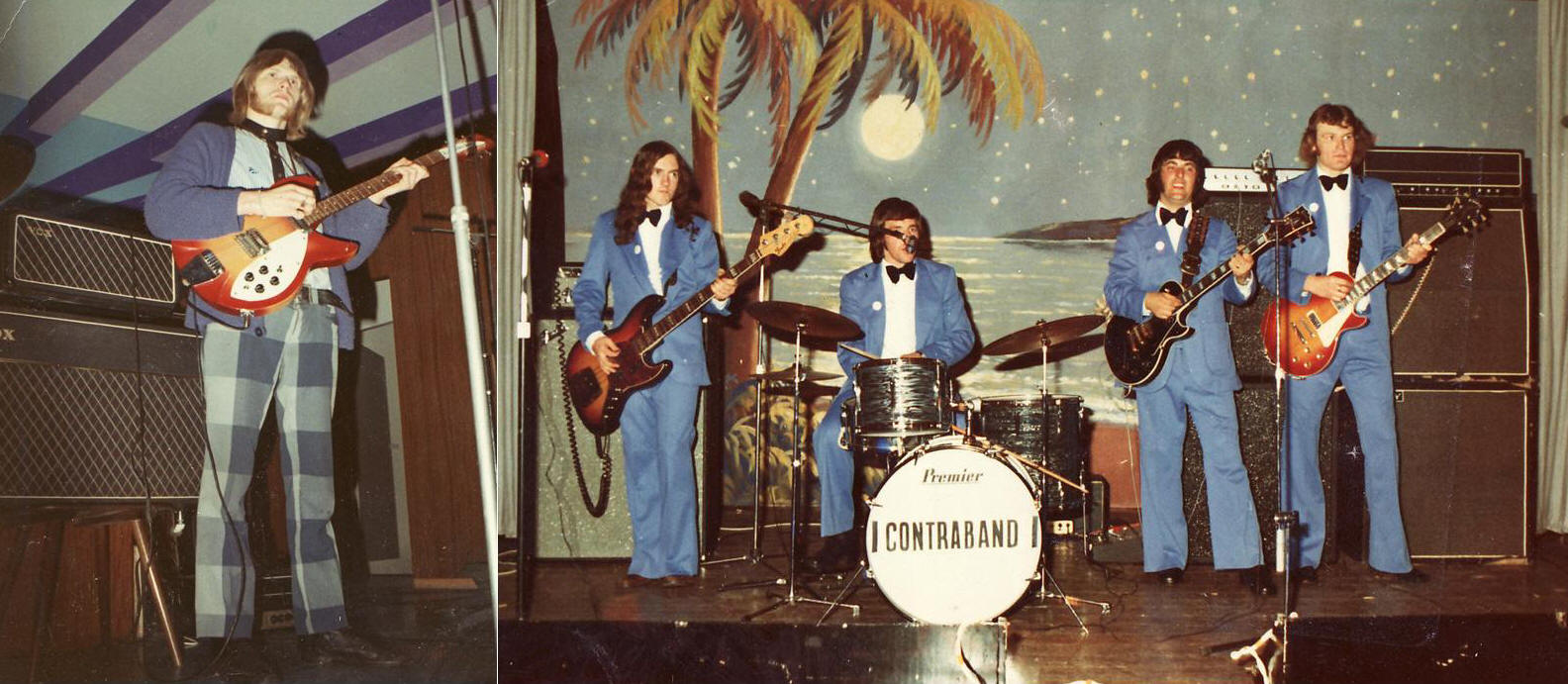 Below 1975 left & right at Carnabies, Yeovil, middle at Club Ruda, Croyde Bay - Bud's Hoyer, Steve's Ludwig Kit & John's Fender Stratocaster
Steve's Vistalite Ludwig Kit can be seen in "Recordings" at the "Devon County Show"

Below left 1977 - A Street Party at Rexona Close, Exeter - the Queen's Silver Jubilee - The Graded Grains - Bud's Gibson EB3/Orange Stacks, Gary's Ludwig Kit & John's Fender Stratocaster/Orange Stack
Below right 1979 - At the Devon County Showground - Bud's Fender Precision & John's Yamaha SG1000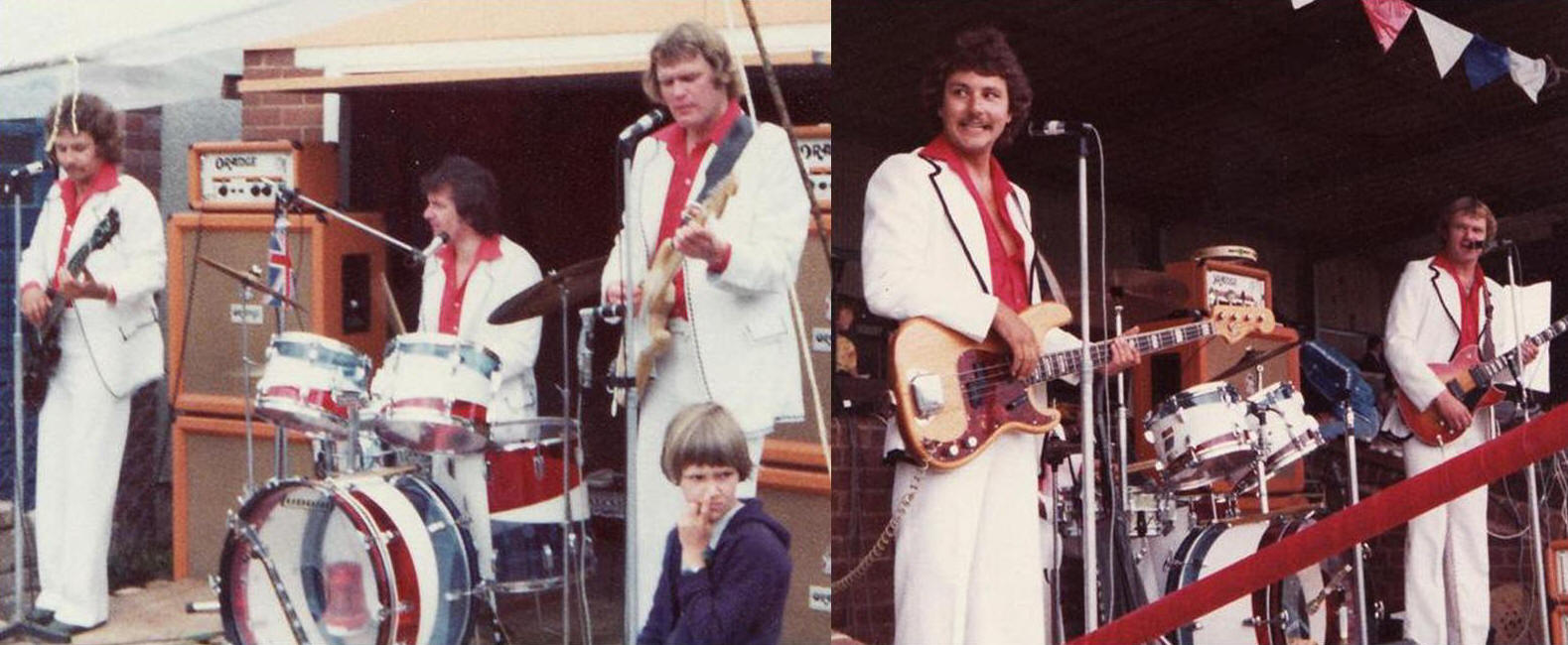 Below as at 1986 - John's Roland Juno 106, Yamaha DX7, Gibson Les Paul Standard & unknown make of banjo. This was a tenor banjo but tuned as a G banjo. Some banjo players tuned their instruments to the four strings of a six string guitar

John's Guitar/Synths - Below left the Roland G-303 & the GR-300 - centre top & right the Roland G-707 & the GR-700 - centre below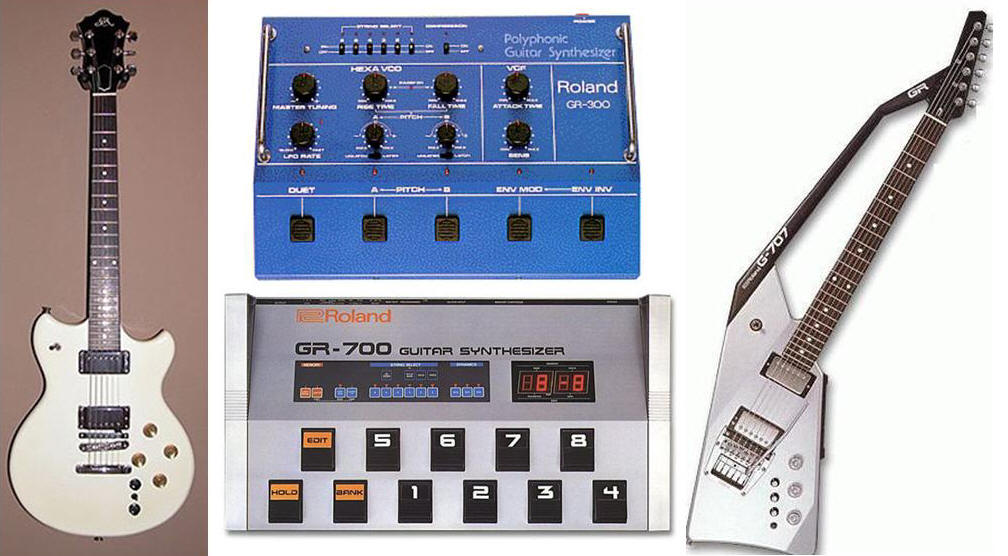 Below more similar guitars as used by John - the colours are authentic - Gibson SG Standard, Burns Hank Marvin, Gretsch Anniversary, Fender Telecaster, Kay 45 Travel Guitar & Burns Flyte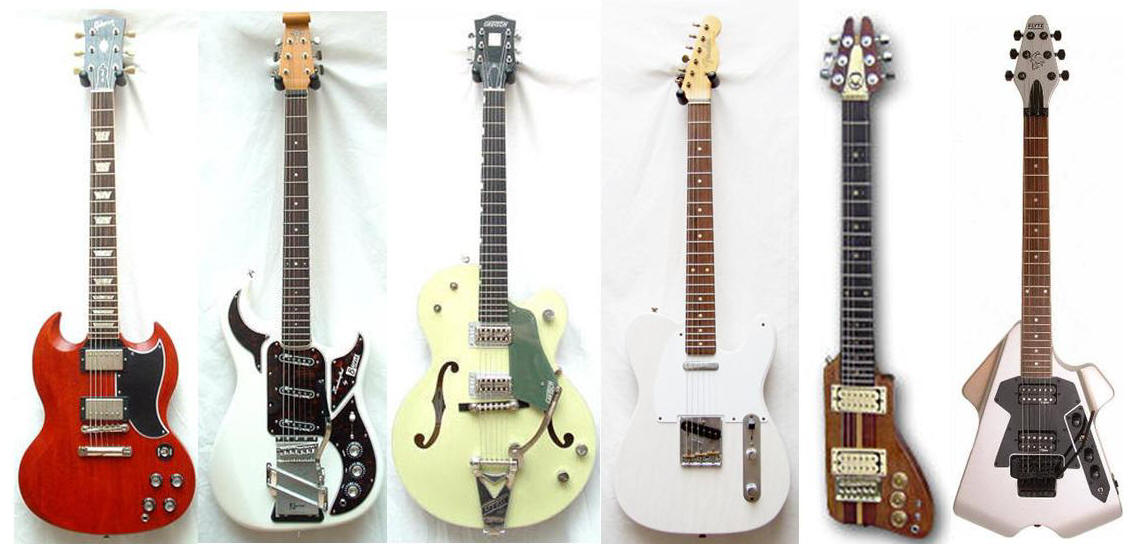 More pictures of the Kay K-45 - also known as the "Hatchet" or "Rifle". John bought one again in 2009. A cheap ideal spare with humbuckers and coil taps but very uncomfortable to wear around the neck.

Below more similar guitars used by Bud - colours are authentic - Epiphone Ravioli, Fender Precision (Bud fitted a chrome scratch plate on his), Gibson EB3, Rickenbacker 4003, Westone Rail & Burns Flyte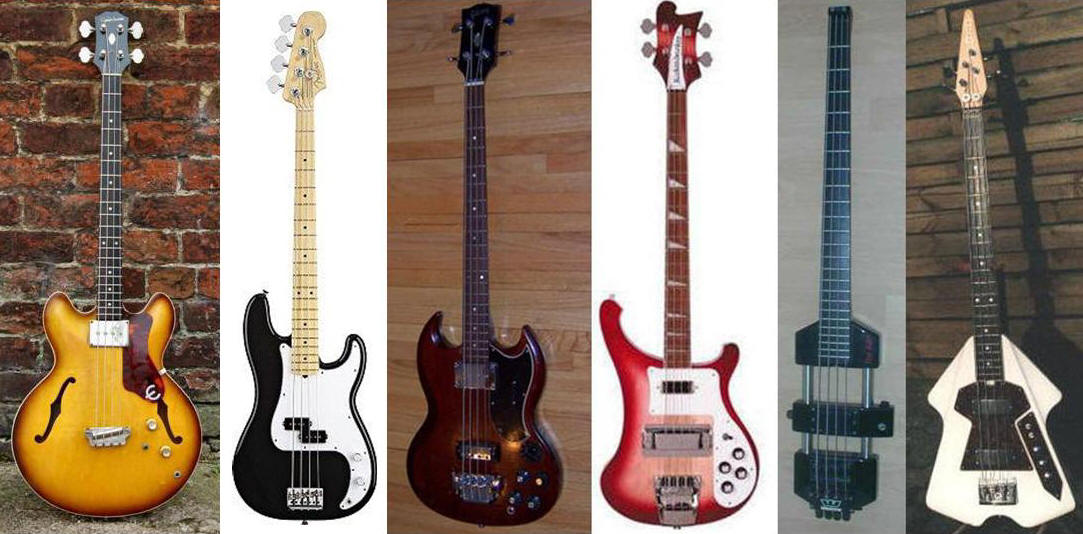 In the sixties there were many amps available but the Vox AC30 dominated the market for years & still going strong - used by everybody including John & Bud, Beatles, Stones, Shadows etc
The three amps below were used by the Spartans - John's Bird Golden Eagle, Brian's Watkins Westminster & Chris's Watkins Dominator

The three bass amps below are similar to Chris's Vox Foundation & Vox T60. Bud used a Selmer Treble-n-Bass Fifty amp & a pair of Selmer Goliaths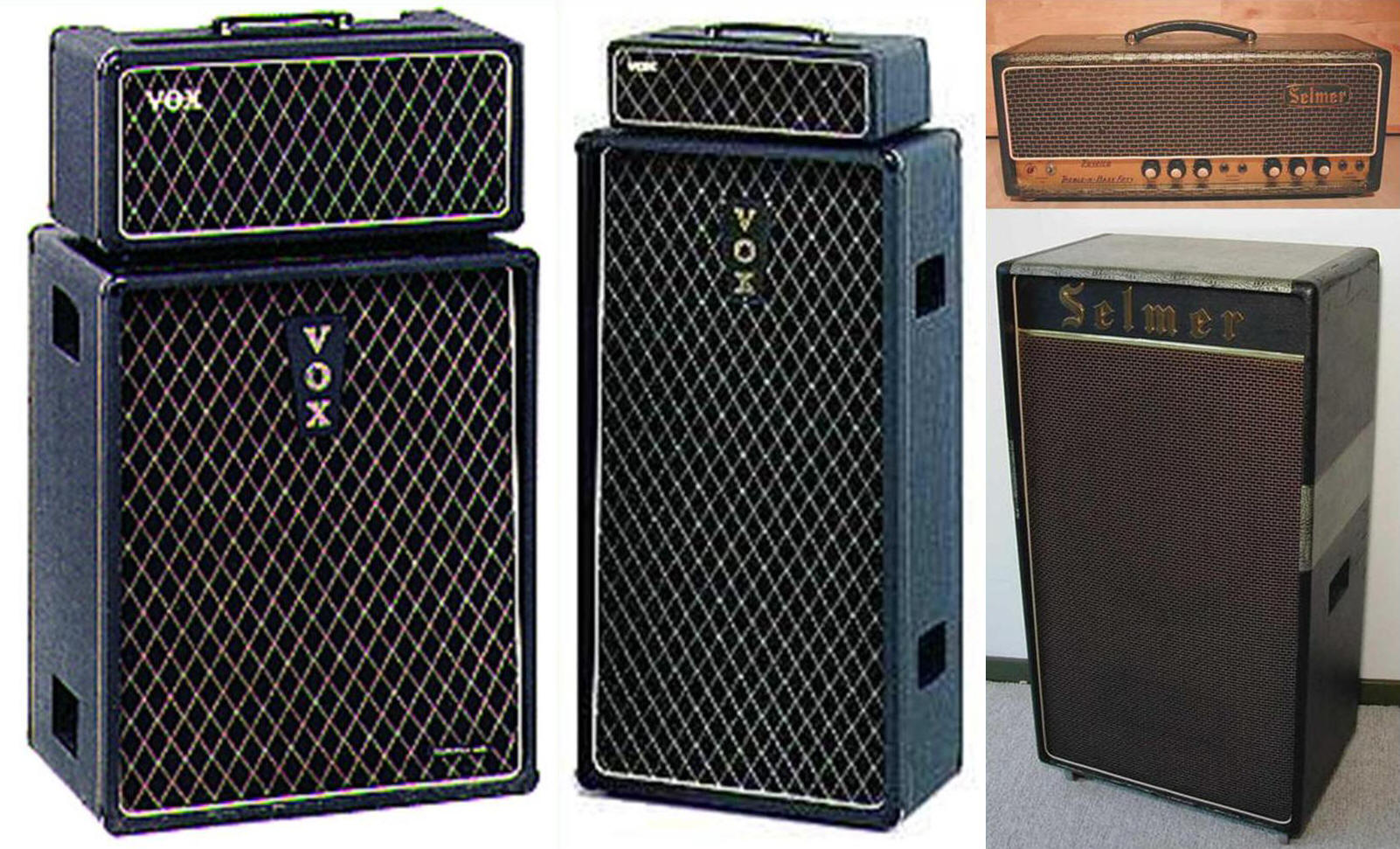 In the seventies the stack system came into use & both John & Bud used Kelly, Marshall & Orange systems as seen below.
At one stage the band had all Orange - Bud has 4, 4x12" Orange cabinets, John 2, 4x12", P.A. 2, 4x12" + 4 horns & 2, 2x12" for fold back - see "History", last photo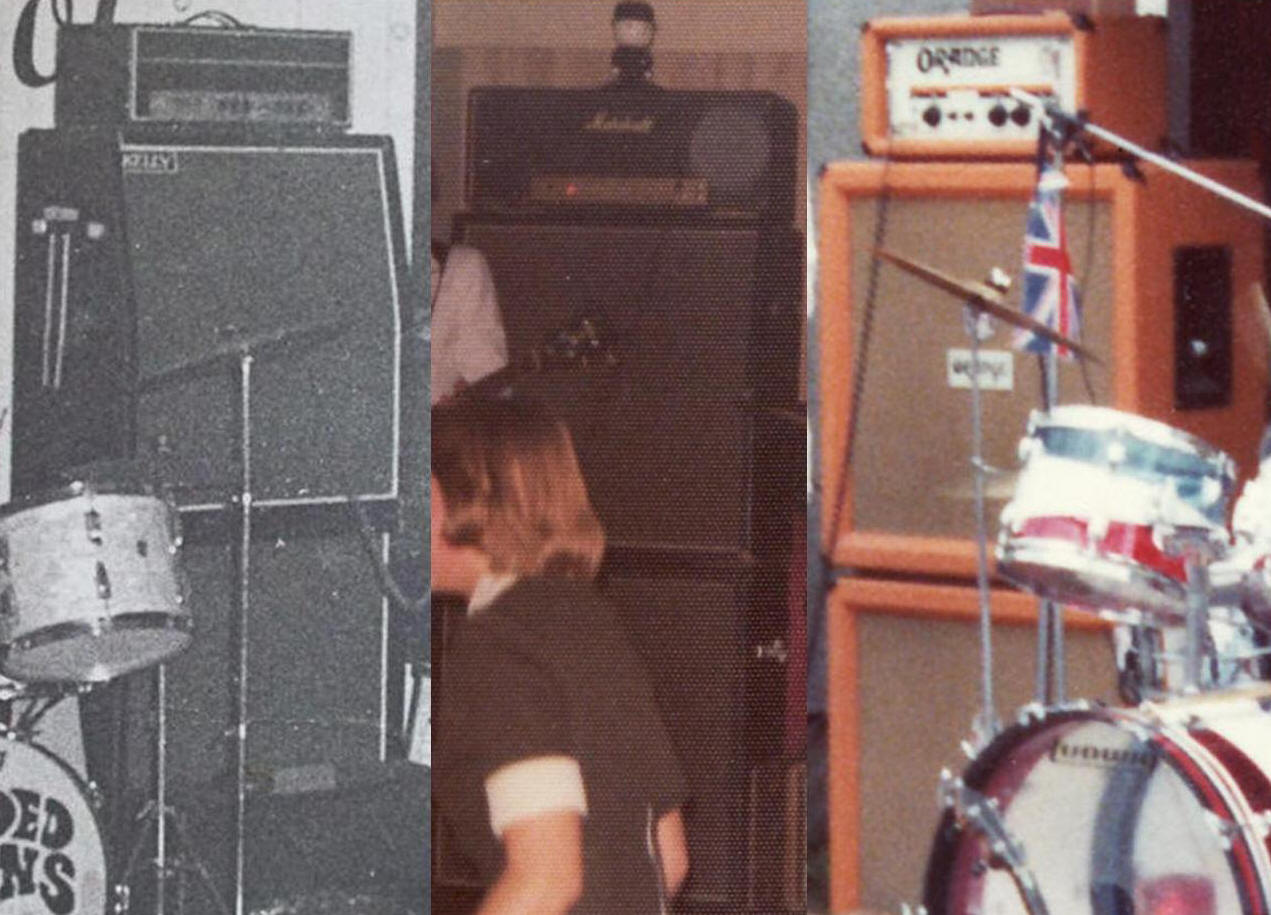 In the eighties some bands downsized their amps to combos as they were beginning to use the sound system rigs
The Graded Grains tested a HH Concert System at the Devon County Showground on 6/8/79 & eventually bought one in 1982. Its debut was 30/8/82 in a marquee at the Queen Elizabeth Lower School in Crediton
At last the group could outdo the discos like the Riverside Club in Exeter & The Fiesta Suite in Plymouth - where they used to struggle playing to up to 1,000 people
At one stage the band had a complete spare HH Concert System which was bought in anticipation of using it in their own club which was to be called "Prides". Sadly the club never materialized as planning & licensing were refused - however the old cinema, owned by John & Bud, was eventually opened as "Crediton Snooker Club" & then renamed to "Potters"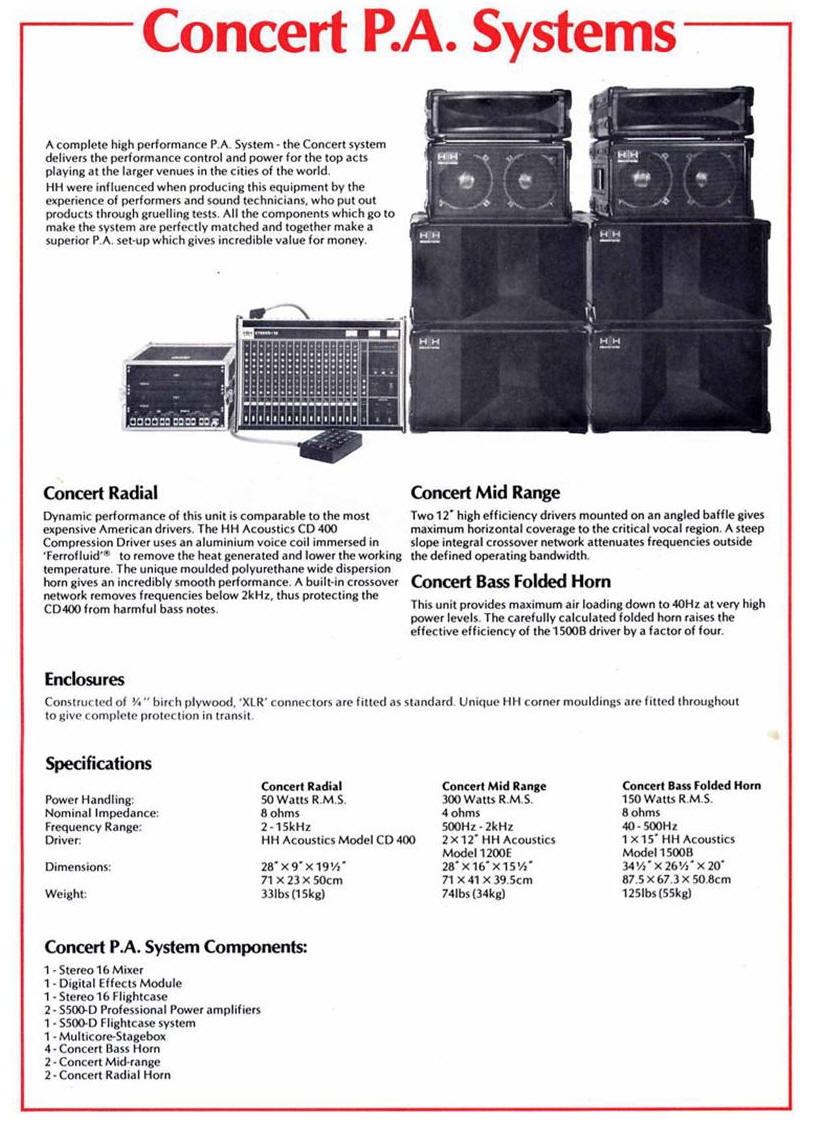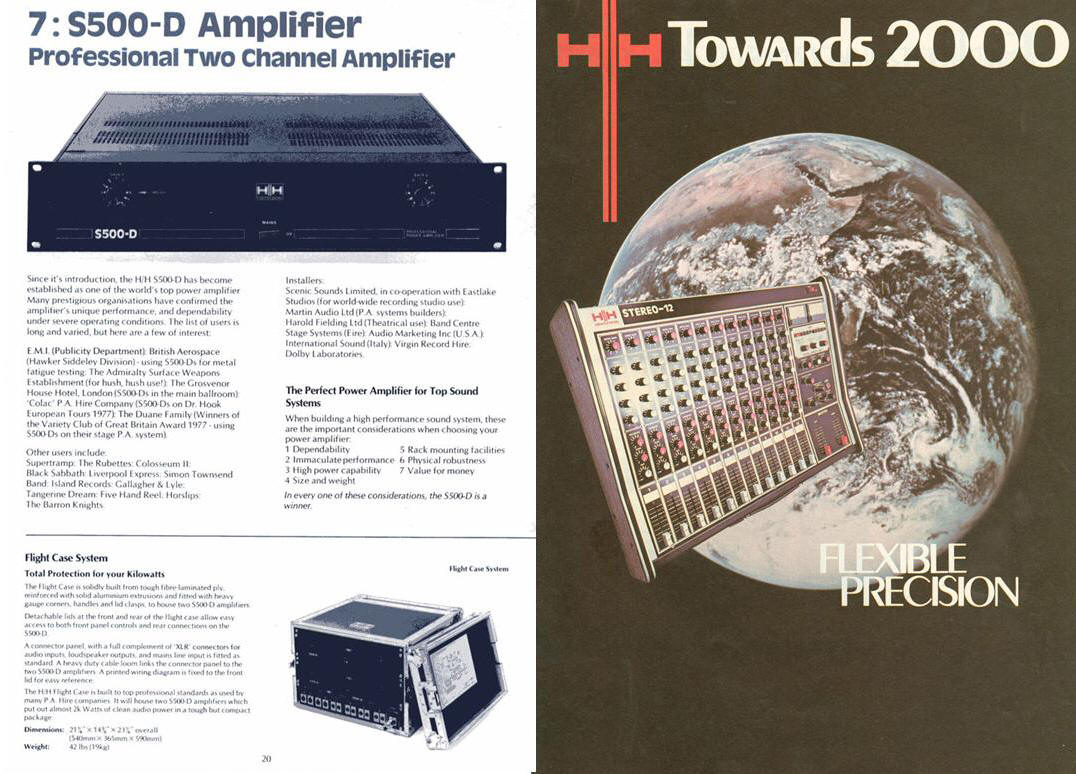 The poster above right shows a 12 channel mixer - a 16 channel was used
The two rigs were linked together once & used at the Riverside Club & it was brilliant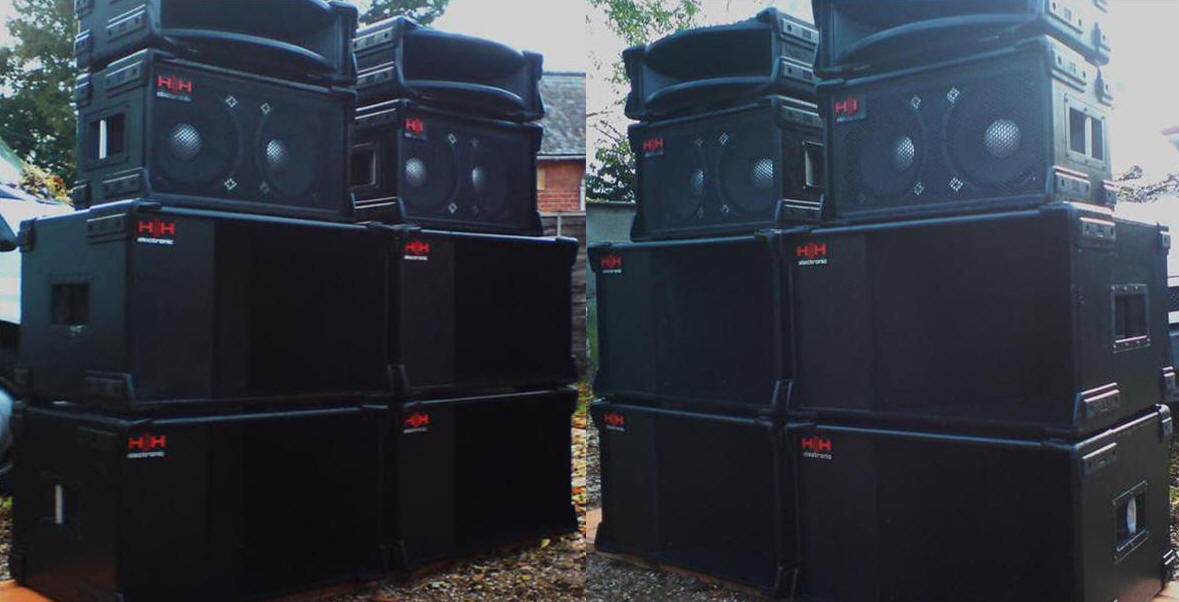 Also, not shown, there was a case for the electric cross over & a 2x150 watt amp which drove the horns - a total of 2.3KW.
To complete this set up a pair of HH Dual Concentric 2x12" cabinets were added for fold back - see photo below, left
The main microphones used from the 60s, 70s and 80s – right, left to right. The Reslo RB, Shure Unidyne 3 and the Shure SM58.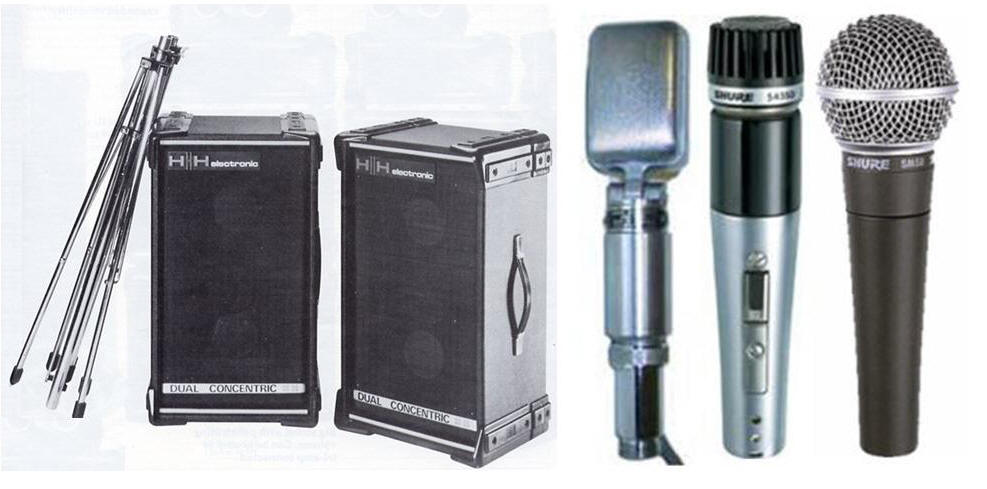 Premier or Ludwig were used by all the band's drummers - Ludwig was generally regarded as the benchmark.
Tommy - Premier & Ludwig, Cliff - Premier & Ludwig, John (Carpenter) - Premier, John (Carr) - Premier, Gary - Premier & Ludwig, Dave Smale - Premier, Rob Shaw - Ludwig & Steve - Ludwig (Two Kits).
There are pictures of the kits included on other pages.
The two main Echo Chambers used in that era were - the Watkins Copicat & the Vox (Long Tom) Echo

The Vox Continental - single manual by Humphrey in the Spartans & the double manual by Trevor in Contraband. Terry used the Thomas (model unknown). A Hammond was used by Brad - possibly the L100 - below right

The Transport - A model of the VW served the Graded Grains on both of the German & the Paris based tours - registered LFJ 816F
The Austin A90 was used for advertising driven by John mainly at Newton Abbot Racecourse
This blue Transit was used from the second phase of Contraband & then transported the Graded Grains for many years. It started life as a diesel but was converted to a V6 petrol - it went like hell but gobbled petrol. It eventually caught fire on the M4 - ironically returning from gig at Cinderford on 03/02/79. All the equipment was saved but the only item lost was John's leather coat - he only found the hook of the hanger

Here are some photos of similar vans used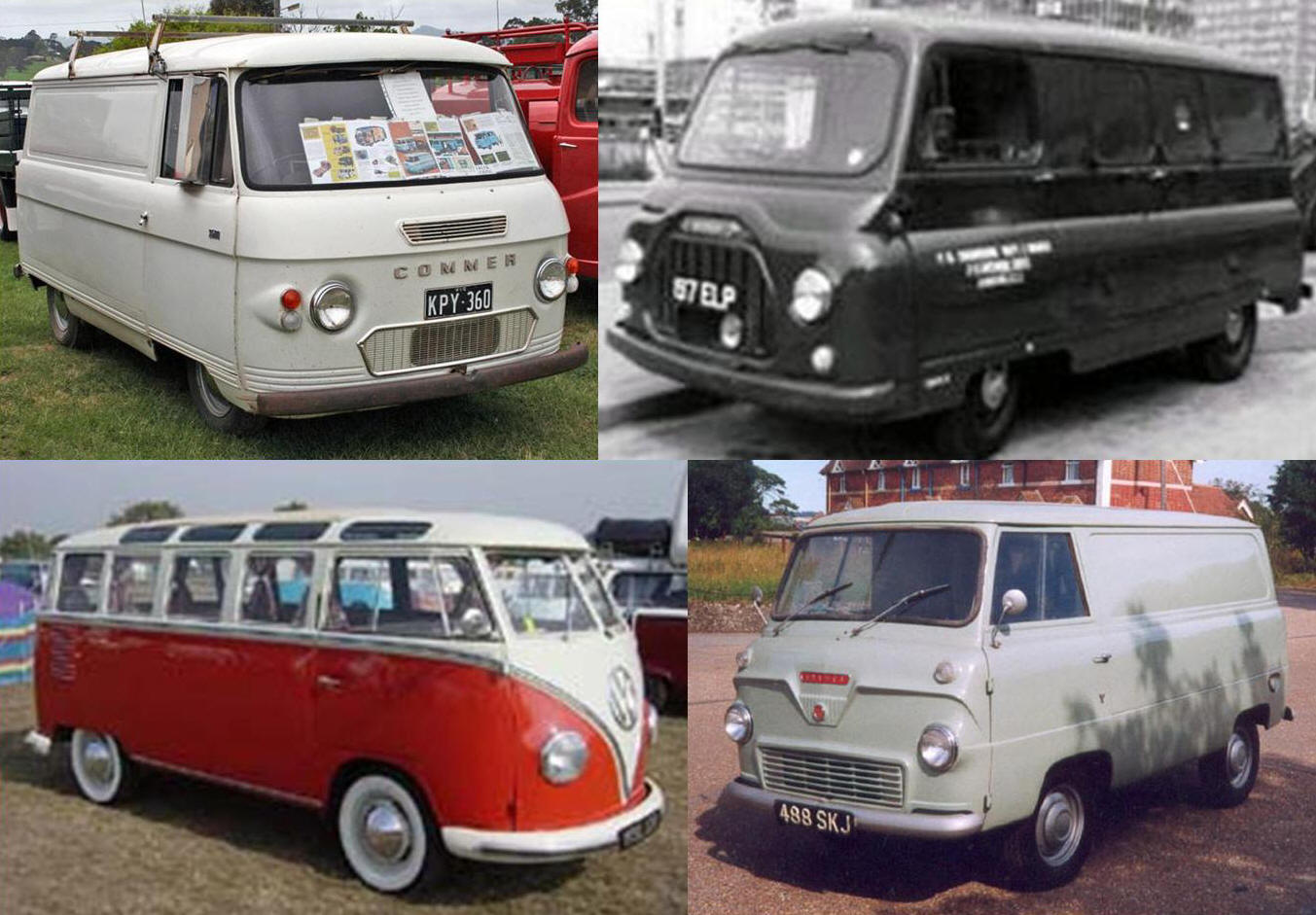 There were about three more Transits - two white and finally a dark blue one
Clockwise above - Two Commers - a yellow one served the Spartans and a dark blue took the Graded Grains to Germany
The Morris J2 in medium grey, with windows, looked after the early days of the Graded Grains prior to Germany. This van was later painted psychedelic. The colour change had to be entered in the log book but the clerk could not spell psychedelic so it was recorded as "multi coloured"! On the back of the van it said - "Don't Laugh - Your Daughter Might Be Inside!"
The VW Kombi was the faithful transport for many trips – authentic colour as in the picture
There was a couple of Ford Thames 10/12 or 15cwt. The most faithful one was in blue/white one used for the Paris/Rome tours. This was later painted orange and black and lasted until the end of Graded Grains Mk1 ... this picture, on the left, was sent yesterday, 29/06/14, by Tony (& Sue Palmer) - John & Andy (Carpenter)'s brothers in law. John is driving the van & Sue driving the Vauahall Viva in 1971. The one on the right was found in the family archives